Code Green
What is Code Green?
A cycle 3 committee  dedicated to helping General Vanier become eco friendly
In addition to steps that were taken in past years, this year we have decided to create monthly themes that will remind you how you can help your planet and reduce your ecological footprint!
60 minutes of Reducing
In light of January's theme of "Reducing", classrooms at General Vanier will be participating in 60mins of reducing.  Teachers will decide how they want to reduce for those 60mins in their classroom.  For example, the lights can be closed, or electronics like the smart board, computers and tablets can be turned off.  
This will take place on Friday, January 31st from 1:15 to 2:15pm.
Donation to Joujouthèque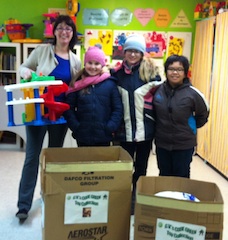 Code Green would like to thank everyone who donated their used toys during the month of December.  Joujoutheque, St. Michel was very appreciative and happy with the many great items we brought to them on Tuesday, December 17. The toys will definitely help brighten up the lives of their many families.
Code green goals already implemented
No longer issuing printed materials.
Polluting water bottle free zone.
Polluting plastic cutlery free zone
Recycling paper, juice boxes and plastic wrappers
Use of reusable containers in order to avoid polluting plastic bags and plastic wrap.
Safe disposal of batteries (container at the front office)
Newly implemented monthly themes
November: Analyze your ecological footprint.  Are you already doing enough to be eco friendly to your environment? Take the Ecological footprint test!
December: Reuse: A time of giving.
January: Reduce (use less water, electricity, energy)
February: Recycle (Contest: bring in your recycled objects to create an art project in art class)
March: Reject (buy ecological friendly products or make your own!)
April: Earth Month (special school activity)
May and June: Healthy Choices (special school activity)
Videos
password: generalvanier5